Role:

Co-Creative Director, Project Manager,
Illustrator, Designer
Co-Creative Director:
Nicole Donisi
I was the co-creative director for Fresh, Portland State University's Senior showcase for June 2021. The showcase connects graduating seniors with working professionals for portfolio reviews, advice, and friendly networking
We pitched our show concept and were chosen by the class. We were tasked with creating a fun and memorable experience for the virtual show
Nicole and I worked hand in hand on creating the branding system for the event. I made "Lil' Mac," the mascot for our graduating class. He was inspired by one of the first Macintosh computers.
​​​​​​​
The website was designed to be an extension of the branding system. We turned every grad's page thumbnail into a trading card that flipped when hovering on the website. We also created a photo style guide to help each grad take their own photo. We even created an interactive "yearbook" for students to sign and leave notes to each other for maximum team friendship.
​​​​​​​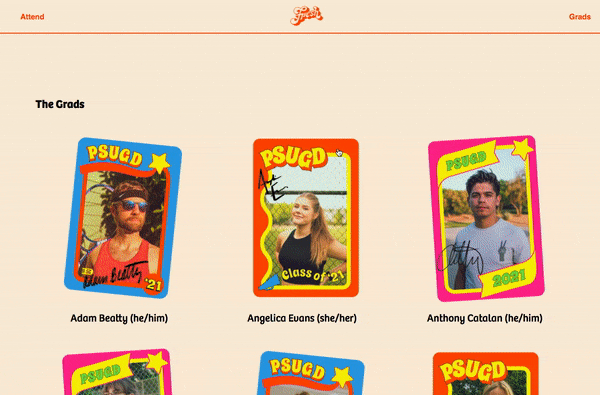 The Instagram was designed to look like an extension of the website but with even more color! Below are some of the Instagram posts we developed to create hype for the event. ​​​​​​​
​​​​​​​
During our outdoor post-FRESH party, Walker Cahall screen printed Lil' Mac and the FRESH logo on some swag. We even got a sponsor to pay for the Lil' Mac dad caps as an extra keepsake!
​​​​​​​